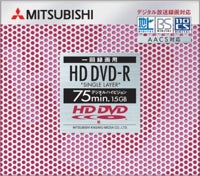 Our ongoing coverage of Format War 2006, the caged match between Blu-Ray and HD DVD, continues. HD DVD was poised to take hold of the first mover's advantage by shipping its standalone player way back when, in April, while Blu-Ray players have been delayed until the end of this month. But the living room isn't the only theater in which this war is being waged: the computer market is also seeing its fair share of action.
Philips's Blu-Ray burner will be available in August, but we've yet to see a HD DVD burner announced yet. That's not about to stop the manufacturers of media for both formats though. If you're just itching to get your hands on some blank next-gen optical discs, Hitachi and Mitsubishi are more than happy to help out. Single layer HD DVD-Rs will be appearing on July 5th, with a storage of 15GB for about $17.75 a pop (rewriteable and dual-layer discs will appear later). We'd long heard that HD DVDs were supposed to be cheaper than their Blu-Ray competitors, but with a BD-R disc reputedly destined to sell for around $20 for 25GB, well, that seems to be hogwash.
Granted, either way, media stands to be on the market long before anybody's able to use them for anything other than hard, sharp frisbees.
[via Engadget ]