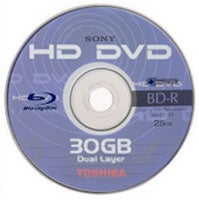 The latest attempts at a truce between the two sides of the high definition optical format war come from an unlikely party: Warner. The media conglomerate owns Warner Bros. which has decided not to take sides in the war, opting instead to support both HD DVD and Blu-Ray.
Meanwhile, engineers at the company have filed a patent for a disc that could feature up to four different formats on different layers: Blu-Ray, HD DVD, standard DVD, and CD. Each side of a disc can handle two layers, which means conceivably you could have two standards per side. Making discs is certainly cheaper than making hybrid players, which would likely require multiple lasers and chipsets to handle all four of these formats.
There's no official news from Warner on what their plans are, but they've already released the first HD DVD/DVD combo disc earlier this year, so no doubt there's some plan gestating inside the corporate headquarters.
[via Ars Technica ]