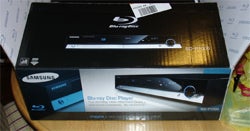 Looks like some isolated Best Buy stores have jumped the gun by putting the Samsung BD-P1000 Blu-Ray player on the shelves early. A forum poster over at the AV Science Forum who hails from Arkansas, said that the Best Buy in his area had two of the Samsung players on the shelf when he went in. Unwilling to miss out on a deal (or wait ten days for the player's official release), he dropped a cool grand and walked out of the store with one of the first Blu-Ray players in America.
Awesome? Yes. Useful? Um, no. See, the Samsung player may have leaked early, but there are as of yet, a grand total of zero Blu-Ray titles available. Granted, they're supposed to start appearing next week, but that's five days in which you've effectively spent a thousand dollars on a DVD player.
As for how the player handles traditional DVDs, the early adopter (who also owns an HD DVD player, natch) said that while the startup time was faster than his HD DVD player (unsurprising, as there are periods of evolution that are faster than the Toshiba player's startup), he thought the up conversion of the DVD looked on the "soft" side. Oh, and the player locked up the first time he started it. Great.
Well, just ten days and $1000, and you too can have one for your very own.
[via Engadget ]