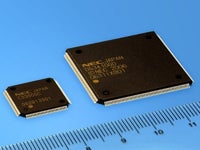 I swear, there've been more attempts to reconcile Blu-Ray and HD DVD than Middle East peace talks. NEC's stepped into the fray now, announcing that they've got a chip that can handle playback of both HD optical formats. This doesn't solve the problem that lasers can't handle both yet, but supposedly Ricoh is working on that.
NEC is claiming that they'll be shipping 300,000 chips per month by April of next year, for a mere ~$84 United Statesian dollars, apparently competitive with single-format chips. Of course, we'll still need manufacturers to put the whole package together, but the sooner that happens, the better for everyone involved. Maybe then people will actually start buying Blu-Ray and HD DVD discs.
Oh, zing.
[via Engadget ]
Note: When you purchase something after clicking links in our articles, we may earn a small commission. Read our affiliate link policy for more details.