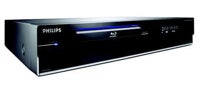 Sony's Blu-Ray player may have hit a production snag, but Philips seems to be having no such problem. Their BDP9000 player is now on sale at Wal-Mart for a shockingly low price of $898, though its official drop date is November 1st. To those who suggest that almost $900 is still a little high for a device whose only purpose is watching movies, hush . This is the future we're talking about: have some respect .
Besides handling its Blu-Ray duties, the BDP9000 can upscale "conventional" DVDs to resolutions of 1080p via its HDMI connection or 1080i over piddling component. It also includes HD playback for high-def WMVs, multi-channel audio outputs, a multi-format card reader, and support for most disc formats.
If you're thinking about going Blu-Ray, you might want to snap this player up right quick; it's at least $100 cheaper than its nearest Blu-Ray competitor, and who knows what your chances are of snagging either a Sony Blu-Ray player or PlayStation 3 in the next two months?
[via GizmoWatch ]