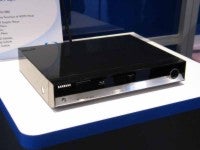 In our sister site PC World's review of Blu-Ray vs HD DVD, the fair reviewer noted that the images produced by Samsung's BD-P1000 seemed to be rather on the soft side. Let me jog your memory:
Among the Sony and Lionsgate Blu-ray movies I watched, I observed a distinct trend toward images with more noise than I might have expected from a high-definition image; however, other titles, such as Ultraviolet, were sharp and eye-catching.
Samsung now says that the softness some reviewers were noticing is the result of
an incorrect setting on the noise reduction chip
. The setting can only be fixed with a firmware update, which Samsung claims in coming in September (it can be applied by downloading the file from Samsung's site, burning a CD-ROM, then loading that disc in the player).
Also at Ultimate Av is a report that the BD-P1000 experiences problems with both Dolby Digital and DTS analog outputs. This can yield reduced channels under Dolby Digital (only the front left and right channels) and either no sound or dangerously high levels of white noise, under DTS. Thus, only the digital sound outputs are really an option.
So, though Samsung was first off the boat with its Blu-Ray player, early adopters are paying the price. And at $1000 a pop, some price it is.
[via Gizmodo ]