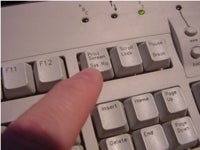 With every successive generation of media, technology and content companies try to make their materials increasingly harder to illicitly copy (at, we are obligated to note, the cost of the consumer). Still, sometimes it's not the high tech methods, but the low tech methods that prove to be the greatest threat to their security.
Take HD DVD and Blu-Ray for example. Both boast impressive, Death Star-like technological measures to prevent copying with scary acronyms like AACS and HDCP, but it turns out that these mighty measures can be felled with merely the push of a single button. That button?
Print Screen.
Now, granted, taking a screenshot of every single frame of a movie might seem impractical, but mix in a little automation and wham —you'll find yourself taken out by a MPAA hit squad faster than you can say "The following preview is rated 'R'." Toshiba claims the next version of WinDVD (the software used to playback both HD DVD and Blu-Ray on PCs) will fix this security hole.
To the MPAA, I say this: I have a perfect frame-by-frame copy of Star Wars . It's in my brain . Come and get me.
[via Slashdot ]