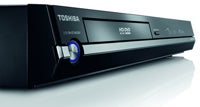 What are your thoughts on the next generation optical format war? So far, it's seemed like kind of a bust to me, but it's still early. After all, the holiday season hasn't even rolled around yet. That's why Toshiba's been holding out on us. They've got a pair of "second generation" players due to hit this fall: the entry-level HD-A2 (supports 720p and 1080i over HDMI) and the super deluxe awesome HD-XA2 (supports 720p, 1080i, and 1080p over HDMI). The models will go for $499 and $999 respectively, and will be available in October and December.
So, will these second-generation players correct the problems we saw with the first-generation players (namely long load times)? If they do, they've got a good shot at taking some ground from Blu-Ray, which between the blue laser shortage, PS3 shortage, and first gen player problems, has been doing a decent job of taking ground from itself.
[via GearLive ]
Note: When you purchase something after clicking links in our articles, we may earn a small commission. Read our affiliate link policy for more details.