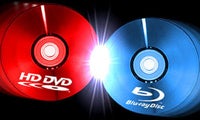 Consider another salvo fired in the war between HD DVD and Blu-Ray. This past week finally saw the same title released in both formats, allowing for a true side-by-side comparison. High-Def Digest loaded up Warner Bros' Training Day , Kiss Kiss Bang Bang and Rumor Has It in both Blu-Ray and HD DVD and scrutinized the results.
All three Blu-Ray titles exhibited extra noise, a darker picture, and in, a surprise showing, an issue with cropping. It seems that though the Blu-Ray titles claim the same aspect ratio as their HD DVD counterpart, the reviewers noticed what seemed to be less picture.
Of course, given that the only existing Blu-Ray player is Samsung's BD-P1000, which has had some problems of its own, there's no telling whether the image quality problems stem from discs or player. But HD DVD comes up smelling like roses either way.
[via Engadget ]