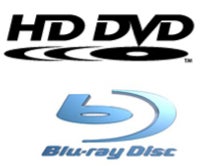 Bless David Pogue. The New York Times technology writer is thorough, incisive, and amusing. We have, of course, discussed the brewing next-generation optical format war at length, and probably shall continue discussing it until one competitor drops.
Pogue has tested Toshiba's debut HD-DVD player, and he dishes on some of the advantages and disadvantages of this new tech, including some which perhaps haven't permeated the mass-consciouness yet. For example:
[D]irector and actor commentaries can now include video, not just audio (the director appears in a small picture-in-picture window). Similarly, the A1's built-in Ethernet jack is supposed to let you connect to the Internet for interactive features.

No movies in the first wave include any of these goodies, however. (Shades of the Camera Angle feature that was supposed to be available on movies in the original DVD format? You decide.)
Yeah. Has anybody ever actually seen a DVD with multiple camera angles? The button's right there on my remote, but I've never used it.
Meanwhile, the Blu-Ray camp is telling anybody who will listen that they have the whole thing locked up before they even fire a single shot.
"When you're a consumer looking at this and you see this enormous array of products that will be available from a hardware point of view, as well as the content side, it makes it pretty clear which format is likely to prevail," said [Andy] Parsons, [senior vice president of product development for Pioneer].
Well, maybe. But Blu-Ray: a) has yet to ship a player and b) will run around two times as expensive for hardware. Granted, content, as they say, is king, and I imagine this chess match is just beginning.