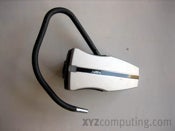 It just so happens I'm in the market for a Bluetooth headset for my Motorola E815 because I've always wanted to look like a Borg reject. Anyway, I was interested to see this head-to-head (ear-to-ear?) match-up of four contenders over at XYZ Computing.
Joe Selim compares two Plantronics models (the Discovery 640 and Voyager 510S) and two Jabra models (the BT800 and the JX10). His verdict? The Jabras come out as the big winners, with the BT800 taking top honors and the too-hot-for-TV JX10 (pictured) coming in second. Coincidentally, the latest issue of Consumer Reports also has a quick sidebar on Bluetooth headsets, in which they give props to the JX10 and the Jabra BT500.
I need to get in some training for this Bluetooth headset purchase. I think I'll start by just talking to myself while I'm walking around: "No, I can't hear you. Speak up! I'm on a headset."
How about you, Gadgetboxers, any Bluetooth headset recommendations?
[via Slashdot ]