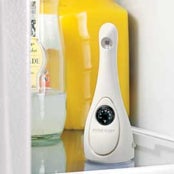 When it comes right down to it, gadgets are supposed to make your life better . Enhance them, in some way. Often times, though, they seem to bring as many problems as they fix. That's why I appreciate gizmos with one single purpose.
Like this $6.99 Fridge Alarm. Put it in your fridge and it does just one thing: beeps if it detects light for more than thirty seconds. Not only does this help remind you that you've left the fridge door open, but it also helps prevent those midnight snacking raids. The 6″ high alarm features a thermometer, included batteries, and a vaguely penguin-shaped design. There's even an on/off switch in case you need to make an exception, like, er, reading by fridge light.
But best of all, it answers that eternal question: how do you know if the light goes out when you close the door? That ones been bugging me for years .
[via Coolest Gadgets ]