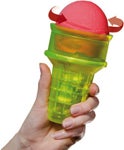 We know our readers are pinnacles of efficiency. Which is why we take issue with Wired News's nomenclature. The devices they feature in their photo blog are hardly gadgets for the lazy ; they're nothing less than solutions to real problems the average person faces every day .
Take the motorized ice cream turner seen at right. Just the other day, I was decrying the lack of this very item to my girlfriend, whose face had taken on her dear-god-why-can't-he-just-talk-about- sports look, but now I can rejoice that I'm not alone in my manually-operated ice cream hell.
Now, using the ice cream turner while cleaning the floor with my new shoe mops —that's efficiency, my friends.
[via Slashdot ]