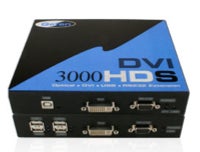 I've got an extremely handy keyboard-video-mouse (KVM) switch that I use to share peripherals between my PowerMac G3 and my home-built PC. It has three VGA ports, three USB ports, one big switch, and cost all of $15. There are a lot of more expensive varieties ( Belkin's Flip Wireless, for example), some of them with nifty features that might make them worth your extra change.
But then we get into the kind of strange utilities that I can't quite fathom. Take Gefen's new DVI KVM extender. It can be used to boost a DVI signal to send it to a display somewhere other than your desk; great if you have another computer you want to share in a different room in your house or, say, another town . Gefen's extender boasts a range of 6.25 miles with zero signal loss.
Okay, impressive, yes, and I'm sure there are some businesses that find a device like this essential (there are few consumers who are going to shell out two grand for one of these suckers, that's for sure), but on the other hand I just find it kind of strange. Six miles seems like an awful lot of cable to run, for one thing. Besides, there's nothing quite worse than realizing that you forgot to put a disc in your computer that's six miles away .
[via Engadget ]