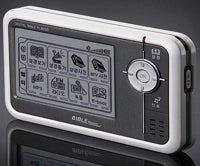 Back when I was in college, I was taking a bunch of religion classes, so it was helpful to have the complete text of the Bible and the Qur'an on my Handspring Visor. Xell's B10 Bible Master takes this idea an awesome step further by making Bible reading its primary function.
But just in case you think that this is a one trick holy eBook reader, the B10 packs in a number of handy less scripture-related features: MP3 playing, for example. There's also an FM tuner—handy for pumping the latest Christian punk rock tunes—and the ability to read other eBooks through the integrated SD card slot.
The B10 is Korea-only at the moment, but I'm sure that churchgoers in the states will be all over it.
"Are you listening to the game, Frank?" "What? Oh, no, Father. Just catching up on my bible reading…damn those Steelers…er…thieves. Yes. Terrible thing, stealing!"
[via SCI FI Tech ]
Note: When you purchase something after clicking links in our articles, we may earn a small commission. Read our affiliate link policy for more details.