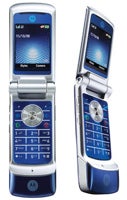 I love only the very smallest, very shiniest of phones. Truth is that while I'd been coveting a RAZR for some time, I knew I ought to wait. Because something better is always just down the line…in this case, the KRZR. Now, I still don't understand what KRZR stands for (Krazer?), so I'm just going to call it the RAZRII, or if you must pronounce it, the "raz-ree."
The KRZR, which we've discussed before under its Canary codename is Motorola's sequel to the ever-so-popular RAZR. It's even narrower than the original RAZR, at 1.73″ wide, and only slightly thicker than its big brother at a svelte 0.6″. It kind of resembles the offspring of a RAZR and my beloved Motorola V60. And of course, it's got a 1.3 megapixel camera, Bluetooth, and a microSD slot.
Verizon's got first dibs on the KRZR; you can pick it up from them now for $199.99 with a 2 year contract, or $249.99 if you fancy only being hitched to VZW for a year.
[via Engagdet ]