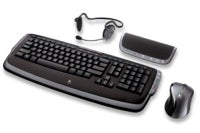 [ Cathy Lu at Digital World writes: ]
Logitech has been selling keyboard and mice combos for years. Now it's trying to crowd your desk even more with its new EasyCall Desktop. Besides including a wireless keyboard and mouse, Logitech also throws in a full-duplex speakerphone for making PC-based VoiP calls. The speakerphone has buttons for volume, mute, answer, and disconnect, and if you want to limit conversations to your ears only, you can connect the included stereo headset. The keyboard also plays into the VoiP hook by featuring buttons for launching Internet apps, changing your online status, and speed-dialing. The EasyCall Desktop will be available starting in September for $130.
Dan's Thoughts: Packaging all this stuff together isn't a bad idea, but it remains to be seen how good the individual components are. Logitech makes good stuff for the most part, though. And VoIP is getting more popular by the day, so it's probably a good move on Logitech's part.