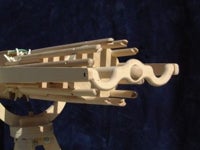 That's a Weapon of Mass Rubber Band Destruction, naturally. Anybody who's been to high school is probably familiar with makeshift rubber band guns, and even perhaps the higher end wooden models that come in the form of pistols, tommy guns, and the like. But if you absolutely, positively, need to deliver stinging pains to everybody in the room, then look no farther than the Rubberband Machine Gun. Accept no subsitutes.
This sucker stands 40 inches tall, which somewhat impacts the portability of it, but it features a dozen barrels, each loaded with a dozen rubber bands, for 12 2 rounds of destructive potential. Of course, reloading is a bit of a pain, so you may need someone on hand to handle that, lest you get whacked by someone holding a stick while you're busy restringing rubber bands. This devil will cost you a pretty penny at $395, but can you really put a pricetag on hunting down the bullies who tormented you as a kid and thwapping them with rubber bands? I think not.
[via Ubergizmo ]
Note: When you purchase something after clicking links in our articles, we may earn a small commission. Read our affiliate link policy for more details.