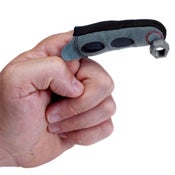 Working inside a computer can involve tight quarters; sometimes there's just not enough room to fit your hand in. Annoying, especially when that screw you've dropped is just out of reach. You can try tilting the case around until it falls out or you can get yourself a Magnetic Fingertip.
I'm not talking about those oddballs who've embedded rare earth magnets in their fingertips, either. Think of the Magnetic Fingertip as a one-finger glove, or a finger puppet that looks like, uhhhh, a one-finger glove. Just pull the Magnetic Fingertip on any convenient digit and you'll be able to pick up loose screws with ease.
Just don't try robbing any convenience stores, genius. Remember, you've got nine more fingerprints.
[via Gizmodo ]