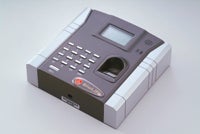 The doorbell: that most 20th century of devices. I mean, come on, how often do people even physically come to your house any more? And if they do, do you really want them to come in? No, what you really need is the technology equivalent of a bouncer to let in those on the ever elusive list while keeping the undesirable elements at bay. Yes, you need BioLife's TAP-01 Fingerprint Access Control with Door Bell.
The TAP-01 allows authentication via any combination of password and fingerprint scan, meaning you can set it up to let the kids in, while keeping those annoying lovely relatives from barging in uninvited. You can manage the TAP-01 over an Inter- or intranet, and it's "Finger matchable in 360 degrees" should you, uh, need to rotate your finger.
Really, though, what self-respecting geek hasn't wanted a fingerprint scanner for their door? If nothing else, it lets you pretend that you finally got that job at the NSA that you always wanted. No news on price or availability as of yet, but they do have an office in Cupertino—can you say iDoor ?
[via Engadget ]