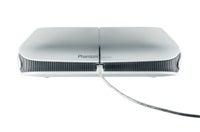 Ah, Phantom Console—we never knew ya, but we'll still bid you a fond farewell. Everybody's favorite vaporware project appears to have disappeared for good from the company website (makers Infinium Labs last month renamed themselves to Phantom Entertainment).
The Phantom Game Console (prototype pictured at right) has a long and controversial history, having first been announced in 2002. The original plan called for a console that would play PC games, downloaded from an online content delivery service. But details were short, and after repeated delays, the Phantom earned a lifelong spot on the all-time vaporware list, just below Duke Nukem Forever. Among other things, Wikipedia claims that the company has lost $62.7 million while pursuing the creation of the console: certainly a not very auspicious statistic for any company.
In the wake of the console's disappearance, Phantom Entertainment has recommitted themselves, and focused on not delivering their Phantom Lapboard and Phantom Game Service instead.
[via Joystiq ]