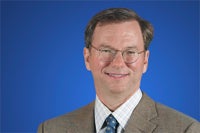 For those who've been long awaiting the appearance of the mythical GBrowser, Google's entry in the web browser market, well, you're more likely to see Godot show up. In a conference call, Google CEO Eric Schmidt said the search engine company has no plans to release a browser, and cited the plethora of excellent alternatives already in existence:
The way Google operates, we would not build a browser for the fun of building a browser and creating another choice… We would only do something along the lines you're describing if there was a real end-user benefit. So far, we've seen the end-user benefit has been to augment or expand both AJAX and JavaScript, which is available on all the browsers. We're working closely with Firefox, we have a good partnership with Safari and with Opera and a couple of others as well. That seems like a good answer for us right now, strategically.
So there you have it, straight from the horse's mouth. Of course, if we've learned anything from the Steve Jobs school of deny-deny-deny-deny-
surprise!
, anything is possible.
[via Ars Technica ]