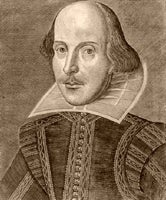 I could go all Elizabethan on you, adding 'eths' and 'ests' to words like it's nobody's business (oh, I can drop it in iambic pentameter , if need be), but I've been asked to keep the pretension to a minimum. We'll see.
Still, I can't help but express my admiration for Google's new Shakespeare resources page; it's little secret that I love me some Billy Shakes. So to see Google assemble its myriad resources to let people investigate the greatest writer of the English language, well, it brings a tear to my eye. A small one, but oh, it's there.
Not only can you search the full text of his plays via Google Book Search, but you can view the reconstructed Globe Theater in Google Earth, and the page provides a bunch of automated searches of Google Scholar, Google Video, Google Images, and so on.
Now, if I can just convince the powers that be at Macworld that what Gadgetbox really needs is a podcast of a reading of Much Ado About Nothing .
[via Ars Technica ]