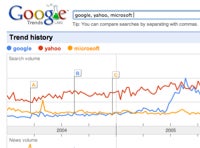 Google, you little rascal. You love to bombard us with all sorts of new technology when you think we're looking in the other direction. Naughty, naughty.
The company famous for betas that last longer than some Chinese dynasties has dropped a bunch of new software and web features today. Besides a new, revised version of Google Desktop (version 4, for those counting at home), with widget-like programs called (creatively) Gadgets, which I will hence forth refer to as –dgets. The app is Windows only, so not much interest for Mac or Linux users there.
The other two features that Google launched today are Google Trends (pictured) and Google Co-op. Co-op is a labeling system, something like deli.cio.us, but with integration directly into Google; it allows you to refine searches based on labeling information entered by other users. A search, for example, for Mario Kart DS in the videogame topic allows me to then choose from Reviews, Screenshots & movies, Demos, Cheats and tips, or downloads and then view sites others have labeled under that heading. One does wonder, though, how they will prevent people Google-bombing their own sites to the top of the list.
Google Trends is, I think, the real gem of the group. My friends and I have been known to solve an argument or two with the occasional Googlefight. Unfortunately, while Googlefight is good for chocolate vs. vanilla disputes, it lacks subtle nuance . That's where Google Trends comes in: it displays a graph of how many times a term appears, for both search results and news. It also provides news story links for peaks in the data, allowing you to figure out why search times spiked at given times. There's also a facility for breaking down the data by cities, regions, and languages. It's hours and hours of statistical fun.