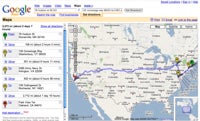 Sneaky sneaky, Google. You thought you could just slip in multiple destinations for Google Maps and nobody would notice. You thought wrong , my friend—dead wrong. And just to show you how wrong, I'm going to plan out a crazy cross-country trip with your new feature there.
It's certainly a welcome addition to Google Maps which, prior to this, really only let you get directions to one place. Ever . Or well, in one window. Now you can add a seemingly infinite number of stops to your trip. Simply plot your standard trip, and then scroll the left-hand frame (containing your driving directions) down and hit the "Add Destination" link.
Find the fastest way to visit your local supermarket, drugstore, library, and pet salon! Plot a cross-country trip! For instance, my trip from Boston to Hartford to Arlington to Rochester, NY to Oakland, CA (with stops in Lincoln NE, Salt Lake City UT, Reno NV, and Sacramento CA). There's no end to the places you could go! Well, except maybe Hawaii . Or Europe.
[via Lifehacker ]