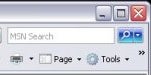 Not that I particularly want to be in the position of defending Microsoft, but this New York Times article about MSN Search's top placement in the IE7 Beta makes Google sound whinier than a new MacBook Pro.
At stake is the search box in the top right corner of IE7's browser window (pictured at right). You probably have a similar little widget in your own browser, if you use Safari, Firefox or pretty much any modern browser—go ahead, look, I'll wait.
Where Google has got me pursing my lips and shaking my head is that its complaint isn't that they aren't included in the search box (which they are), but that the default is MSNs. Now, Firefox's search box has always defaulted to Google, as far as I can remember, and Safari doesn't even let you change its search box to something other than Google, without resorting to hackery.
Yes, IE still has the highest marketshare of browsers, but Google is the Xerox of Internet search. I doubt that not defaulting IE7's search box to them is going to cut significantly into their presence. Reporting MS for monopolistic practices smacks decidedly of a little glass-house stone throwing on Google's part.