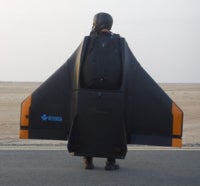 Okay, I desperately need a Gryphon parachute system. I promise I'll do everything for it! I'll feed it, I'll change it's…um…parachute.
Basically, it's not just a parachute, but essentially a wing that you strap on. Using it, you can fly for around 25 miles at pretty significant speeds before you decide to make a soft, pillowy landing by deploying your parachute. The next version released by German manufacturer ESG is supposed to have a turbo jet engine, meaning even more of a need for speed.
Okay, it's not a jetpack, but it'd be great for dropping in on the neighbors unannounced. Well, except for the roar of your jet engine and the sight of the huge parachute deploying. But you'll definitely be able to fly under their radar.
[via Engadget ]