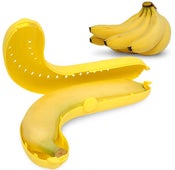 Bananas are—and I don't mean to hyperbolize— the world's most perfect fruit. They're self-contained in one perfect serving size; offer their own grip for eating without getting your hands messy, and taste perfect in a bowl of serial. The difficulty is transporting them without getting them all brown and smushy, at which point they cease to be the world's most perfect fruit, and instead become the world's messiest fruit.
For just $6.99, you can purchase the Banana Guard, a plastic form-fitted shell in the vein of the individual cupcake protector that will keep your banana in perfect condition for that lunch hour. Specially designed to fit "the vast majority of bananas" the Banana Guard is available in five colors: Ravishing Red, Mellow Yellow, Sublime Green, Brilliant Blue, and Passionate Purple. The case also features small holes to encourage ripening and is dishwasher safe.
Let your bananas never get smushed again! This shall be our rallying cry.
[via The Consumerist ]