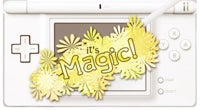 We follow DS news pretty closely here at Gadgetbox. With the DS Lite only a few weeks away, you may be wondering: what else will I be able to do with my shiny new toy? Because, sure, the DS is a portable gaming machine—and the iPod is just a music player.
4 Color Rebellion has assembled an excellent snapshot the homebrew scene for the Nintendo DS. Of course, there's a distribution of Linux available for the DS, but did you know you can install popular game emulator ScummVM and run classic LucasArts games? There are mail readers, chat clients, even a full blown organizer to turn your DS into a PDA.
To do most of this, you'll need a passthru device, an adapter that lets you load software onto the DS via memory cards, but they're available and getting cheaper (a comment over at 4 Color Rebellion suggests Divineo.com ).
Any DS users out there have homebrew experiences to share?
[via Kotaku ]