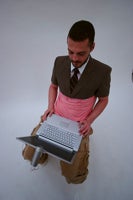 My life as a blogger means that I spend my time mostly working from home or the local Internet-enabled cafe. This has both its pros and cons: I'm easily distracted by all the accouterments of my home, for one thing. Then again, I sometimes don't get dressed until noon, blogging from the comfort of pajamas, a bathrobe, and fuzzy slippers. This can be a problem when the boss sends you an invite for a quick video conference.
That's where the Businessbib halfsuit comes to the rescue. Calling a halfsuit is kind of a misnomer; anybody can thrown on a shirt, tie, and jacket. The halfsuit is more like a 1/3rd or 1/4th suit: it's the top half a of a shirt, tie, and jacket that you can throw over your pajamas. Even better, it secures with Velcro, making it a snap (or a, um, what sound does Velcro make?) to throw on at the last minute.
Businessbib sells halfsuits in a variety of styles which sell for about $135 each. You can find a halfsuit for everyday of the week. Me? I'm going to go back to refusing video conferences from my boss.
[via Popgadget ]