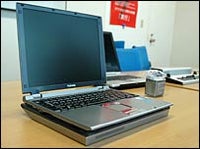 Paul Kallender, of our sister site Digital World Tokyo, took a ride with a fuel cell powered laptop for the BBC (because they asked nicely). Toshiba is aiming to have a commercial version of the product out in 2007, though there are still some battles to be fought over size, weight and noise. A 100 milliliter cartridge of methanol ought to power a computer for 10 hours, though, claims Toshiba, and the devices should only get smaller and lighter.
They've spent much of the past few months shrinking down components, and designing safeguards for the cartridge so that it will not break or leak.
Which could be bad, in case you were wondering.
[via Digital World Tokyo ]