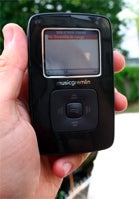 Not long ago, we were discussing the Zing music player, which meshed its aural entertainment capabilities with social networking to provide that increasingly elusive high one gets from a truly fine piece of music. Sadly, though, it was a little ways off. But the MusicGremlin is here today. Now. And Gizmodo got a chance to play with one.
So what's the deal? The deal, my good friends, is that the MusicGremlin is a Wi-Fi-enabled MP3 player that lets you download music from the MusicGremlin service wherever you're in range of a Wi-Fi network (either an open one, or a paid one that you have access to). The player itself has 8GB of flash memory, but access to a catalog of over two million songs (from, it appears, Real Networks). The MP3 player goes for $299, while music pricing is the rather unsurprising $0.99 per downloaded song or $14.99 for unlimited listening. This of course raises questions of what happens when you go in and out of range of networks; I'd assume that if you were streaming the current song, it must be buffered in the flash memory. Still, if you opt for the $14.99 subscription service, your player seems less likely to come to that cabin in the woods with you. No word yet on what happens if you download music after midnight.
In addition, the MusicGremlin features some social networking aspects; you can access playlists from other users. Sounds like the interface may still need a little work, though—Gizmodo's John Biggs describes it as "kludgy."
Of course, the 64GB question is whether or not the industry's 800 lb. gorilla, Apple, will respond. Rumors of a wireless iPod are almost as old as the iPod itself, but we've yet to see either Bluetooth or Wi-Fi make its way into the little white box. Apple seems to have the ingredients to make this work and make it work well.