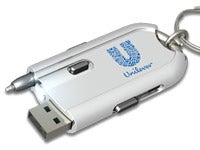 I'm trying to think of all the handy uses for US Modular's new self-proclaimed " Handy Drive." It incorporates a flash drive from 128MB to 4GB, a ballpoint pen, and a flash light. Crazy? Crazy useful . No more jotting down illegible notes in the darkness, no more trying to find the USB port on your computer in a darkened room, no more, er, getting yourself locked in a supply cabinet by accident at the holiday party. Well, two out of three ain't bad.
Unfortunately, there's not much more known about the Handy Drive at this point, besides the capacities and the fact that the 128MB version will run you $20. Crucial details (ink color?) are still missing from US Modular's website. We do know that it will have a keyring (ooh) and will work with OS X, Windows, and Linux (ahh). We have no idea why the picture above has the Unilever logo on it (oh).
[via Macworld ]
Note: When you purchase something after clicking links in our articles, we may earn a small commission. Read our affiliate link policy for more details.