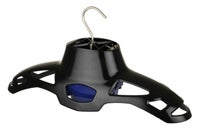 Nothing worse than finding that your clothes are still damp after being taken out of the dryer and you're out of quarters. The Hangair might be able to help in that situation, though you'd probably need more than just one, and at $70 a pop, well, let's just say that if don't have any quarters, you probably can't buy a bunch of $70 hangers.
The idea behind the Hangair was originally conceived for drying damp wetsuits, but it ought to work pretty well for any sort of wet garment. It contains a two-speed, high-powered, and most importantly waterproof fan that claims to help dry your clothes in 70% less time and prevent odor to boot.
Sounds like a nifty gadget, but since I'm not big into the surfing scene (unless we're talking the Web, ha h—sorry, sorry), I think I'll stick with a good old wooden drying rack or a big enough roll of quarters.
[via Oh Gizmo! ]