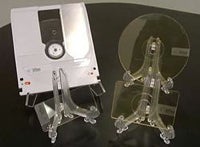 Despite the fact that I just posted another article about the HD DVD vs Blu-Ray Format War, I remain skeptical of both formats. After all, they seem to be marginal improvements upon the existing DVD standard, and I'm not really convinced that they'll truly kill of such an entrenched standard. DVD was a huge jump from VHS, and I don't think the HD revolution has quite caught on yet.
Besides, there's always the Next Greatest Thing coming down the pipeline, and in this case it's holographic storage. I know everybody starts thinking virtual reality when they hear "holographic," but get your head out of the Holodeck. Conventional formats like DVDs store data in just two dimensions, but holographic storage increases that to use all three spatial dimensions. By doing so, it dramatically increases the kind of storage you can get: for a disc minutely larger than a CD, you'll see 300GB. Compare that with the 30GB max of HD DVD and 50GB max of Blu-Ray. A disc the size of a postage stamp could store as much as 75-100GB.
Plenty of questions have yet to be answered, such as the lifetime of holographic storage, the cost, and when exactly it will be appearing. But InPhase (a spinoff of Lucent) and Hitachi Maxwell are now claiming we'll have commercially available models by the end of this year. Expect consumer-level devices to take a little longer, but before the decade's out, perhaps we'll all be going holographic.
[via Ars Technica ]