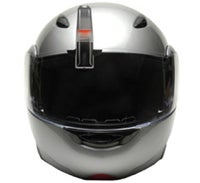 I'm pretty sure that the future was supposed to be all about Heads Up Displays. Or, at least, that's what movies and video games have conspired to convince me. And while fighter pilots have had them for a while, it's time the HUDs came to the masses.
That's why I'd like to see the SportVue MC2 expanded beyond motorcycles. Sure, it hooks up to your bike to let you keep track not only of speed and RPMs, but even radar detectors, but why shouldn't motorists and bicyclists be able to take advantage of this wonderful technology? Hm?
I suppose that since the head mounted display attaches to the helmet, it might look a bit silly to drive around in your Ford Focus with a helmet on. I also can't decide if a HUD would be more or less distracting than a conventional display. On the one hand, you don't have to take your glance from the road to see it, but on the other hand, it's always hovering there.
Still, it's pretty cool and at only $250, I might have to pick one up. Then I'll just need a motorcycle.
[via Gizmos for Geeks ]