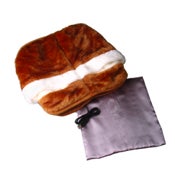 You may wonder who needs heated slippers? That's the difference between you and me, though. I ask: who doesn't need heated slippers? Especially brown fuzzy ones that you can power up by plugging them into your computer's USB port. Vavolo's Warmmi USB Heating Slippers will keep those toes nice and toasty with the combination of their brown soft fur and the heating elements powered by USB.
It's hard to argue with the site's copy:
Now with these special new USB heating slippers, you can keep your feet warm when you use your PC and play games in cold winter. It designs safety, charging by USB port and made of fur, very soft. It can keep your feet warm in cold winter.
My girlfriend has feet
like ice
, so I'm thinking about getting her a pair of these $22 slippers for her birthday next week. For her comfort,
of course
.
I can't quite tell though—do these slippers even come apart? Or are they just a couple of pouches for you to stick your feet in? Weird.
[via Ubergizmo ]