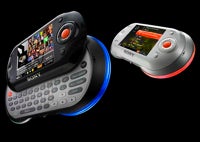 I can't quite explain it, Sony, but you're always so close. You just don't quite seem to get the whole way there. Take your new 'mylo' device (short for "my life online"). Web browsing? Check—Opera. VoIP? Check—Skype. Wireless? Check—Wi-Fi. Messaging? Check—not AIM?
Seriously, this thing is close. I like the idea of a handheld wireless communicator, but no cell support means that this is shoved into the "in addition to my cellphone and iPod" category. I can only carry around so many gadgets, you dig? And as much as like Skype, Wi-Fi isn't universal enough to let me replace my cellphone with it.
Also, what's with the lack of AIM support? Yes, you have Skype. Yes, you have Yahoo Messenger. Yes you have Google Talk (big whoop). But AIM trumps all of these, probably put together. Get with the program.
The other specs aren't bad: a pull-out QWERTY keyboard, a 2.4″ 320×240 screen, and available in black and white—even the styling isn't bad. But I just don't see it getting much traction until Sony fixes those missing pieces.
[via Gearlog ]