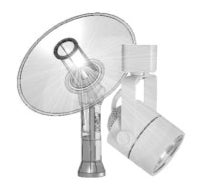 Toiling away in the windowless prison pleasuredome that is Gadgetbox HQ can often make one lose their sense of time. Is it day? Night? Have I seen the sun in a week? I'm thinking about talking to my benevolent overlords about getting a Sunlight Direct Lamp installed. They'll have to put a reflective dish on the surface, er, roof to collect the sunlight, but I'm sure that's within their means. And then sweet, sweet sunlight will filter through fiber optic cables into a lamp, directly over my head, bathing me in Vitamin D (the "D" is for delicious ).
Granted, the custom installation is of a "if you have to ask, you can't afford it" price, but what price isn't worth having the molten pinks and reds of sunrise or sunset splayed all across my place of sleeping/working/eating. Think of all the electricity saved by using natural light! And at night time, it switches over to halogen lighting, to make sure I don't end up solely in the glow of my computer screen.
Alternatively, it also makes a great trap for unexpected vampires.
[via SCI FI Tech ]