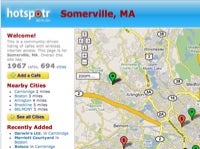 A few years back, I was living the life of an itinerant writer; traveling from city to city, sleeping on couches, air mattresses, even floors. During the day I traveled to cafes and libraries, to write and poach free wireless Internet. The trouble though, was finding a good free wireless hotspot. In a pinch, you could spring for access at Starbucks, but I prefer to frequent the local businesses whenever possible.
Hotspotr is a Google Maps-based interface to finding wireless hotspots; just pop in a ZIP code and it'll display your options, including whether they're free or pay-per-use. Click on a particular location and you'll find details about it, including what type of location it is, whether they have food, and reviews about the environment. You can also add locations that you know of, allowing Hotspotr to expand its database. My local listings were okay, but I added in one notable omission.
But the real reason you know you can trust Hotspotr is its Web 2.0 hallmarks: the lack, for example, of an 'e' in the name points to the heritage of sites like Flickr and Tumblr, while the site's masthead proudly proclaims that it is "Beta-ish." Honestly, how can you go wrong?
[via Lifehacker ]