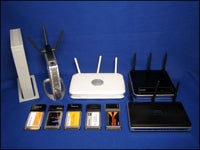 We've been following the story of 802.11n for some time now, and we aim to keep you guys updated all the way until official 802.11n gear is released. Why? Well, firstly—and most importantly—because we care . Secondly, faster wireless networking is good for everybody . And thirdly, well, there's a lot to talk about.
So, we were intrigued to read of the extensively detailed tests that ExtremeTech carried out on a handful of 802.11n routers and cards. The hardware comes from big name vendors Netgear, D-Link, Buffalo, and Belkin and represent chipsets by Atheros, Airgo, Broadcom, and Marvell—pretty much covering the gamut of "Draft N" equipment available on the market.
Their conclusions?
Stick to a single brand and a single product line. Netgear and D-Link led the pack in our single-brand throughput tests, but interoperability varied from brand to brand. Don't expect all of your existing clients to work with the new hardware. If some don't, you may have to pony up for some new wireless equipment. No one ever said early adoption was cheap.

If you're looking at other brands, we strongly recommend buying products based on the same chipset. The major chipset makers have been promising interoperability among pre-n devices for a while now, but they clearly aren't quite there yet.
In addition, ExtremeTech notes that the chance of
interfering with your neighbor's 802.11b/g signal
is still very much a reality, so it's something to consider. But it sounds as though most people might be better off waiting until gear is officially approved.
[via Slashdot ]