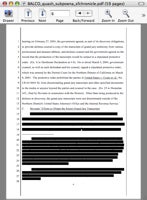 Oh, government, sometimes you can be so cute . Everybody's probably familiar with the notion that government documents will often have portions "blacked out," where sensitive passages are covered in black marker to hide them from prying eyes.
Unfortunately for the government, in the 21st century, our documents of choice are not printed on paper, but stored electronically, often in the cross-platform PDF format. But for nostalgia's sake, instead of deleting the sensitive sections, the government prefers instead to continue blacking them out.
There's just one teensy-weensy little catch. Turns out when you black out text, you can still select the text, copy it, and paste it into a word processor, where it appears in all of its plaintext glory.
Whoops .
If you'd like to try it for yourself, here's a copy of a court document regarding a grand jury leak in the BALCO steroids case; or, if it's more up your alley, a document from AT&T in the NSA wiretap case.
Seriously guys, next time maybe you should white them out instead. No, really, it'll work better, trust me.
[via Deadspin; thanks, Jason]