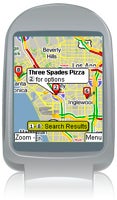 Technology, at its best, is about solving real life problems. So here's one that's all too common in the Boston metropolitan area in which I make my abode: traffic. It's not that we have more cars than most other cities, it's just that we have weirder roads and stupider drivers. But put those together and you get sitting at a standstill on Storrow on a Sunday morning.
So Google's put their minds to the task and come up with a solution. They'd already rolled out Google Maps for cellphones a while back, so now they've added real-time traffic overlays. Routes are color-coded: red means congestion, yellow and orange slow traffic, and green clear as day.
I haven't been able to test this, as I don't have a web-enabled cellphone, but I'm assured by Google Software Engineer Josh Sachs that it is "the new hotness."
[via Digital World ]
Note: When you purchase something after clicking links in our articles, we may earn a small commission. Read our affiliate link policy for more details.