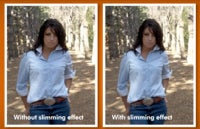 I'm with John Gruber on this one. The "slimming" effect that HP is building into their new digital cameras is pretty disturbing. But despite that, I'm curious to see whether, as I'm thinking, it's going to sell these cameras. Body image is a huge issue among Americans, especially women, who are constantly bombarded by pictures of how they're "supposed" to look. Like John, I don't think that the women in the pictures HP provides are particularly in need of "slimming."
I was going to say that it was interesting they only showed the effect on women, but that's not true—there is a man in some of the images. I fully understand the temptation of people to "fix" themselves in pictures, which is far easier given the prevalence and simplicity of photo-editing in this digital age. Still, when so many images end up manipulated, they start to lose their relevance.
[via Daring Fireball ]
When you purchase through links in our articles, we may earn a small commission. This doesn't affect our editorial independence.