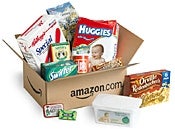 Can't be bothered to go out and get your own groceries? Amazon can bring them right to your door. The Internet shopping superstore has added foodstuffs to its enormous catalog, so now, in addition to DVDs, books, and um, patio furniture, you can get cereal, macaroni and cheese, and popcorn.
Needless to say, Amazon is concentrating mainly on things that don't require much in the preservation department. So you won't exactly be finding a replacement for your local supermarket's produce or butcher departments (besides, there's always Omaha Steaks for that). And the quantities are more tuned to "survival shelter" amounts than, say, "studio apartment" (unless, of course, you have a need and room for a 6-pack of 16-Ounce Kraft Blue Cheese salad dressing).
Also, you'll find that many familiar brands are lacking, so instead of Aunt Jemima's syrup, for example, we're stuck with "Sorbee Sugar-Free Maple-Flavored Pancake Syrup." I think I'll just go hit my local supermarket.
[via Ars Technica ]