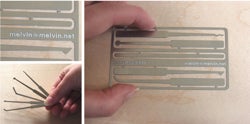 Move over, credit card spanner, there's a new card tool in town. This one's a legitimate business card, for a hacker. (Hackers have business cards? That seems awfully… legitimate .)
Anyway, this gent by the name of Melvin had his business card designed as a set of punch-out lockpicks. The designer in question, Jeni Mattson, features the lockpick card on his own website, where he says that the lockpicks are entirely functional once they've been punched out of the card.
Very cool. I'm going to have to go tell my boss to hold up on our business cards—we need lockpicks .
[via TechDigest ]