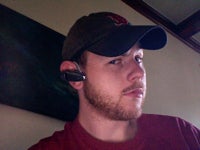 Last month, I mentioned that I was in the market for a Bluetooth headset for my new Motorola E815. My current wired headset was not working very well, and it was getting pretty dangerous for me to even think about my phone while, say, driving. Despite the fears raised by a recent episode of Doctor Who , when a commenter on MacUser mentioned that the Motorola HS-805 he bought worked great with Skype on his Mac notebook, and I noticed that said headset was on sale for $25 from Motorola, my choice was basically made for me.
I've only been using it for a few days, but it works pretty well. It's fairly comfortable (though it is kind of weird to have it hanging off my ear), and the volume control and multifunction buttons are easy to work. Audio quality is decent; not as good as my handset, but not bad either. As the MacUser commenter mentioned, it paired with my Mac with no trouble whatsoever, and I had it up and running in Skype almost instantaneously.
Unfortunately, one of the key reasons I wanted a headset was to use for in XP on my MacBook (via Boot Camp). There are no drivers for the internal mic, and I don't have a line-level external mic, so I figured if it worked with Skype on OS X, it should work on XP too.
Wrong . After hours of frustration, I concluded what many before me had discovered: the XP Bluetooth drivers don't support headset services. Bah. Back to square one.But at least it works with my phone. And OS X Skype. And iChat. So, take that XP.