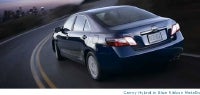 So I've let Dan run wild a little too long by himself. He's clearly getting drunk off the power. It's time I rein him in by posting about my experiences with a very big, very expensive gadget: the 2007 Toyota Camry Hybrid. I'm losing a 1997 Chevy Cavalier, so this is a big step up.
There's a few key aspects I want to cover for this blog. The first and most obvious is the hybrid engine. It's almost controversial for the tradeoffs involved. One side argues that you save money on gas while the other argues that you can barely make up the difference in cost. While I don't have the resources to do a proper cost analysis, I can share how it performs. I can compare how much gas I go through as compared to what was already a pretty fuel efficient car.
Second, I want to play with the "Smart Key" system. The little lump you carry around to cause the car to unlock and start is sometimes known as a fob on some cars. I'm not sure I can share anything particularly insightful about these as they've been around a while, but it's still fun.
Finally, I need to buy a Bluetooth cell phone (please give me recommendations that work with Verizon Wireless) so I can use it with the car's built-in Bluetooth networking and speakerphone system. As far as I'm concerned, this should be in most cars by now. Bluetooth was designed for these kinds of applications. It's a safety feature at this point.
I'm sure there's a few other tidbits that I'll want to write about. However, I don't want this to be about just me. I want you to ask me questions. Any and all of them. It doesn't matter how trivial you may think it is.