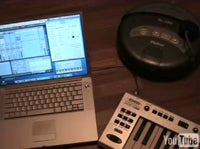 And now you can. RoombaMidi can turn your menial cleaning robot into a musical instrument. The OS X software creates a virtual MIDI instrument that can be used in most music software that supports MIDI, such as Apple's Logic. Harnessing the Roomba's piezo beeper and the sound of its motors, you can make your Roomba belt out all sorts of tunes. Provided they're arranged for beeper and motor.
Frankly, this worries me. I mean, if we give robots the ability to sing , what's next? The ability to feel ? This could be just the first step on the road to robocalypse! Pretty soon, we'll all be cringing atop our chairs as the singing Roombas spin round us in a dervishesque dance of death, chanting "EXTERMINATE! EXTERMINATE!"
Fortunately, like Daleks, Roombas can be felled simply by climbing to the second floor of your house. Those of you who live in ranch housing, well, at least once the robots overrun you, your floors will be really clean .
[via Engadget ]