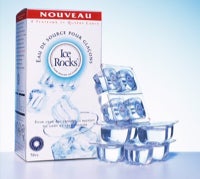 I was going to say that Ice Rocks were the dumbest thing I'd ever seen, but I wasn't absolutely sure that was true, so I'll say that they're the dumbest thing I've seen in the last twenty minutes.
It's the perfect thing for the diva who insists that nothing but the purest water, airlifted from the driven snow of the Swiss Alps, touch their lips. Because there's just too much danger involved in pouring ice cube trays full of Evian. Instead, you can use Ice Rocks: pre-sealed cubes of pure spring water that you pop in your fridge, and remove hours later to chill your drinks. At least the containers are recyclable.
This needs to stop. Now.
[via Popgadget ]
Note: When you purchase something after clicking links in our articles, we may earn a small commission. Read our affiliate link policy for more details.